Echo® MS Center of Excellence launches at SCIEX headquarters
Framingham, MA — SCIEX, a global leader in life science analytical technologies, celebrates the opening of the Echo® MS Center of Excellence. The center builds on the SCIEX culture of innovation and features a world-class demonstration laboratory that will serve as a portal to building strategic customer collaborations. The center is outfitted with two automation solutions, each coupled to their own SCIEX Echo® MS system. This combined offering aims to showcase comprehensive and customizable workflows for high-throughput screening, HT-ADME and synthetic biology studies.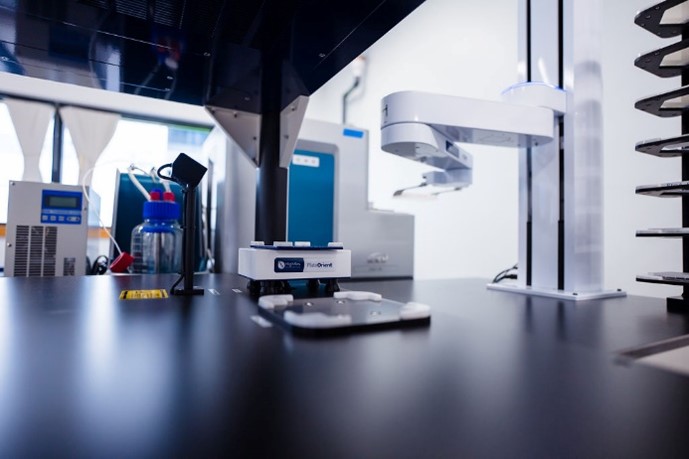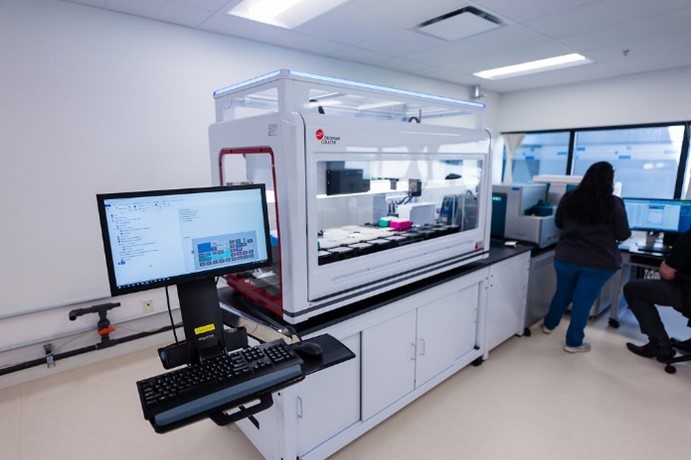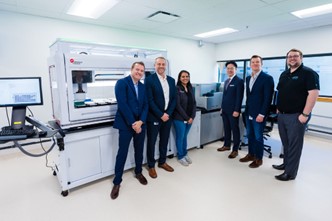 Through this dynamic and interactive showroom, we will partner with clients to discover their unmet needs and deliver high-value answers for their most important workflows, thus creating a culture of knowledge, interactive support and growth.
"The Echo® MS Center of Excellence is an example of our commitment to innovation at large. Innovation can come in the form of technology, as well as software, but the ultimate innovation is what we enable customers to do. If we can help shape the workflows that allow them to overcome their most pressing challenges, then we have achieved the ultimate innovation," said Joe Fox, President at SCIEX, at the ribbon cutting ceremony. "At SCIEX, we are not iterative, we have always been aspirational. The workflows that the Echo® MS system allows is a model of that."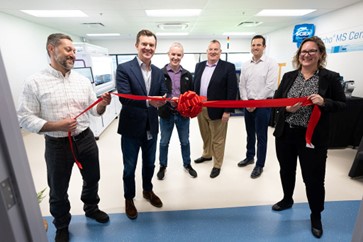 Learn more about the Echo® MS system by visiting https://sciex.com/products/integrated-solutions/Echo-ms.
About SCIEX
SCIEX delivers solutions for the precision detection and quantification of molecules, empowering our customers to protect and advance the wellness and safety of all. We have been at the forefront of the field of mass spectrometry for 50 years. From the launch of the first ever commercially successful triple quadrupole in 1981, we have developed groundbreaking technologies and solutions that influence life-changing research and outcomes.
Today, we continue to pioneer robust solutions in mass spectrometry and capillary electrophoresis. Our customers can quickly respond to environmental hazards, better understand biomarkers relevant to disease, improve patient care in the clinic, bring relevant drugs to market faster and keep food healthier and safer.
That's why thousands of life science experts around the world choose SCIEX to get the answers they can trust to better inform critical decisions that positively impact lives.
For more information, visit sciex.com.
Let's connect: Twitter, LinkedIn, Facebook and Instagram.
Advances in human wellness depend on the power of precise science.
 Contact Information
Lulu VanZandt
Senior Manager, Brand, Public Relations and Social Media
[email protected]
The SCIEX clinical diagnostic portfolio is For In Vitro Diagnostic Use. Rx Only. Product(s) not available in all countries. For information on availability, please contact your local sales representative or refer to www.sciex.com/diagnostics. All other products are For Research Use Only. Not for use in Diagnostic Procedures.
Trademarks and/or registered trademarks mentioned herein, including associated logos, are the property of AB Sciex Pte. Ltd. or their respective owners in the United States and/or certain other countries (see www.sciex.com/trademarks).
Echo and Echo MS are trademarks or registered trademarks of Labcyte, Inc. in the United States and other countries, and are being used under license.
© 2023 DH Tech. Dev. Pte. Ltd. MKT-28137-A.ation used under license.