Genialis Unveils Expressions Version 3.0, Cloud Software for Faster, More Secure Data Processing and Management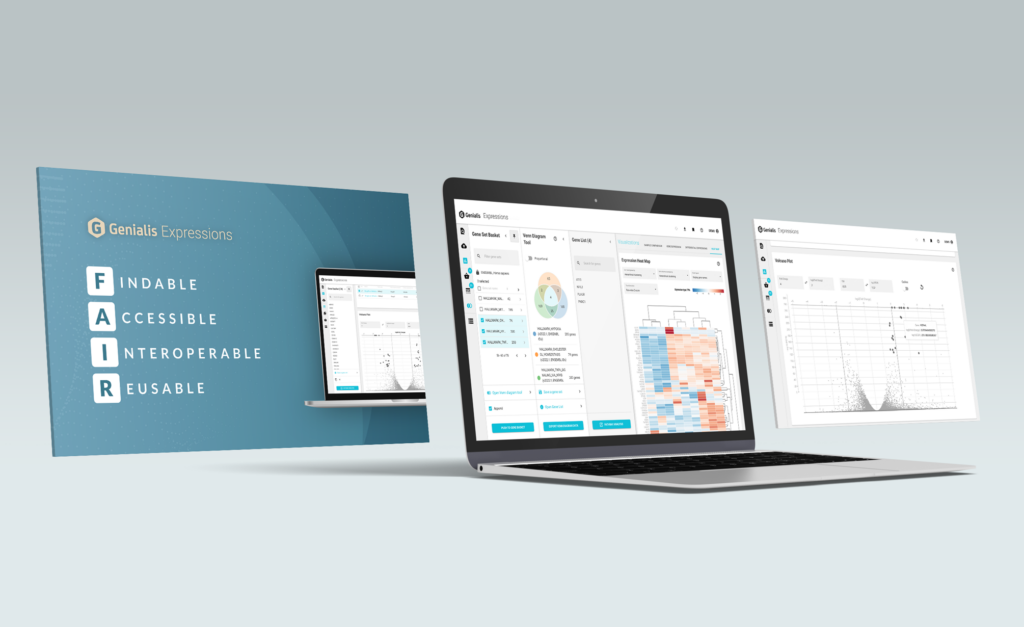 Updated Microservices and Front End Architectures Deliver Vastly Improved Performance and User Experience, while ML-ready Data Fuel Biomarker Discovery via ResponderID
Boston – Genialis, a computational precision medicine company unraveling complex biology to find new ways to treat disease, today released Genialis(™) Expressions version 3.0 to accelerate translational and clinical biomarker discovery. Expressions is a platform for the analysis and management of sequencing data that makes data querying and processing faster, smarter, and more secure. Designed around FAIR data management principles and bioinformatics best practices, the new Expressions delivers leading-edge UX enhancements including 10-100x increased responsiveness. Leveraging microservices via Kubernetes and adaptive AWS resources has improved scalability and cost-effectiveness, allowing users to process hundreds of concurrent transactions with exacting computational resources. The version launch of Expressions follows Genialis' recent close of $13M Series A financing, announced in March 2023.
"Expressions has been the software at the core of our work from the company's earliest days, and today is the engine that runs the ResponderID platform," said Rafael Rosengarten, Ph.D. CEO of Genialis. "The new version makes identifying gene signatures easier and seeing how they behave across data sets. The system also helps ensure data is machine learning-ready, which is essential for us and our collaborators in translational and clinical R&D to build more innovative and accurate biomarkers."
Expressions is the foundation of ResponderID, Genialis' computational precision medicine technology suite for biomarker discovery. Expressions serves as a secure repository of versioned experimental and clinical data and associated metadata that is consistently analyzed, annotated, and managed at scale. Results are interpreted through code-free, pre-configured visualization modules. From raw to processed data, Expressions bioinformatics protocol corrects bias and ensures reproducible, consistent, and reliable results while complying with regulatory requirements and meeting ISO 27001 data security standards.
"Genialis Expressions has been an indispensable tool in simplifying and standardizing our bioinformatics workflows for years. The ability to easily attach extensive metadata to each dataset and integrate with other data stores and tools through the API has made my omics data more FAIR than ever before," said Nikolaus Obholzer, Ph.D., Director, Computational Biology at Kronos Bio.
Data management professionals and power users will appreciate the improved command line interface, "ReSDK," that delivers greater programmatic access to both data and tools/pipelines. ReSDK is one of three major open source libraries within Expressions, along with Resolwe dataflow engine and Resolwe Bioinformatics pipelines and tools collection. While customers typically access Expressions on Genialis' AWS cloud application, the new version makes it simple to stand up customer-hosted cloud instances and improves the reliability of on-premise deployments. The software's microservices architecture also has been optimized for cost-effective storage and processing. Other enhancements include more powerful and intuitive search capabilities, a simplified permissions management interface, and versatile tools for working with gene sets, all of which support the "signatures and algorithms" assets of ResponderID.
"Our NGS core facility staff routinely utilizes the Genialis Expressions platform for post-sequencing quality checks," said Daniel Kraushaar, Ph.D., Assistant Professor and Director, Genomic and RNA Profiling Core, Baylor College of Medicine. "[Expressions] generates critical QC metrics in a single, easy-to-interpret report that allows our technicians to validate run performance as well as sequencing content. Not only can we quickly identify data outliers but also ensure that every sequenced NGS library meets our quality benchmarks."
Genialis previewed the power of the new Expressions technology at AACR 2023 through a poster with OncXerna Therapeutics and Regeneron, showcasing recent findings that could lead to improved treatment options for patients with anti-PD-1 refractory, metastatic melanoma. Dr. Rosengarten will also speak at the Alliance for Artificial Intelligence in Healthcare Annual Meeting in South San Francisco, Calif., on May 17-18, 2023.
For more information about Expressions or RepsonderID, please visit www.genialis.com.
About Genialis
Genialis is a computational precision medicine company unraveling complex biology to find new ways to address disease. ResponderID™, Genialis' machine-learning-driven disease modeling platform, delivers actionable biomarkers and optimally positions novel drugs to accelerate translational research, streamline drug development and ensure the best possible clinical care. Genialis is trusted by pharma and diagnostics partners, and together, we bring precision to medicine.
Media Contacts
Andrea Vuturo
Vuturo Group for Genialis
[email protected]