Eppendorf twin.tec® PCR plates BioBased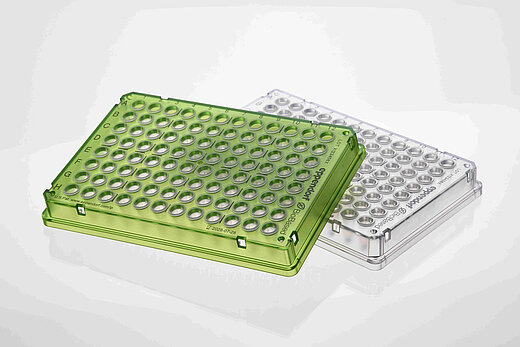 22 years ago, Eppendorf introduced the groundbreaking automation-friendly two-component twin.tec® PCR Plates. Today, we are thrilled to announce that Eppendorf has reimagined them.
Following the successful launches of Eppendorf Tubes® in the biobased generation and epT.I.P.S.® BioBased, Eppendorf is proud to introduce the twin.tec PCR Plates BioBased. These full skirted plates come with 96 wells and are available in two translucent colors: clear and spring green.
The growing demand to accelerate research and development in diagnostics, therapeutics, and personalized medicine has led to increased precision, complexity, and automation in laboratory workflows. Our customers depend on the high performance and reliability of the plates used in their high-throughput processes. However, this increased throughput often results in a higher carbon footprint due to the use of single-use plates made from fossil-based plastics.
For Eppendorf, this presents a sustainability challenge. When rethinking the Eppendorf twin.tec Plates, our goal was to relieve our customers from having to choose between sustainability and adhering to established, validated protocols. We aimed to develop a more environmentally friendly solution while maintaining the identical technical performance of the existing plates.
All components of the new plates are crafted from bio-circular polymers manufactured using renewable feedstock, following the mass balance approach. The exceptionally thin-walled wells, which ensure optimal heat transfer, are constructed from 100% biobased polypropylene, while the rigid robotic frame is composed of 77% biobased polycarbonate. This combination results in a highly reliable and sustainable PCR plate.
Eppendorf twin.tec PCR Plates BioBased have earned ISCC PLUS* and ACT certifications. Our consumable factories in Germany meet the requirements of the ISCC PLUS certification system and undergo regular external audits and certifications.
* International Sustainability & Carbon Certification
https://www.eppendorf.link/twintec-biobased
About the Eppendorf Group
Eppendorf is a leading international life science company that develops, manufactures, and distributes instruments, consumables, and services for use in laboratories around the world.
The product portfolio of the business units Liquid Handling, Consumables, Separation & Instrumentation and Bioprocess includes, for example, pipettes, pipette tips, centrifuges, mixers, ultra-freezers and bioreactors for cell and gene research. In addition, Eppendorf offers a wide range of high-quality consumables. In fiscal year 2022, the Eppendorf Group generated €1.23 billion in sales and invested €76 million in research and development (R&D).
Eppendorf products are used in academic and industrial research laboratories, for example in companies in the pharmaceutical, biotech, chemical and food industries. But Eppendorf products are also used in clinical or environmental analysis laboratories, in forensics and in industrial laboratories for process analysis, production, and quality assurance.
Eppendorf was founded in 1945, is headquartered in Hamburg, Germany, operates production and R&D sites in Europe, Asia and North America and has subsidiaries in 33 countries. Today, the Group employs more than 5,000 people worldwide. They all act in accordance with the purpose of the company's founders: to improve human living conditions.