It was a rollercoaster ride for US stock markets this month in response to the Trump administration's vacillating policy and statements on trade, and China and Europe's responses. In other economic news, on June 27, the Commerce Department released its third estimates for first quarter GDP growth, lowering it to 2.0% from 2.2%. In addition, for the second time this year, the US Federal Reserve raised interest rates on June 13 from 1.75% to 2%, the highest since 2008. Two more increases are expected this year. Despite the market's volatility, all three indexes ended the month nearly flat, with the S&P 500 and NASDAQ on the upside, rising 0.5% and 0.9%, respectively, and the Dow Jones Industrial Average down 0.6%. For the year, NASDAQ is the clear frontrunner, up 8.8%. [caption id="attachment_226863" align="aligncenter" width="505"]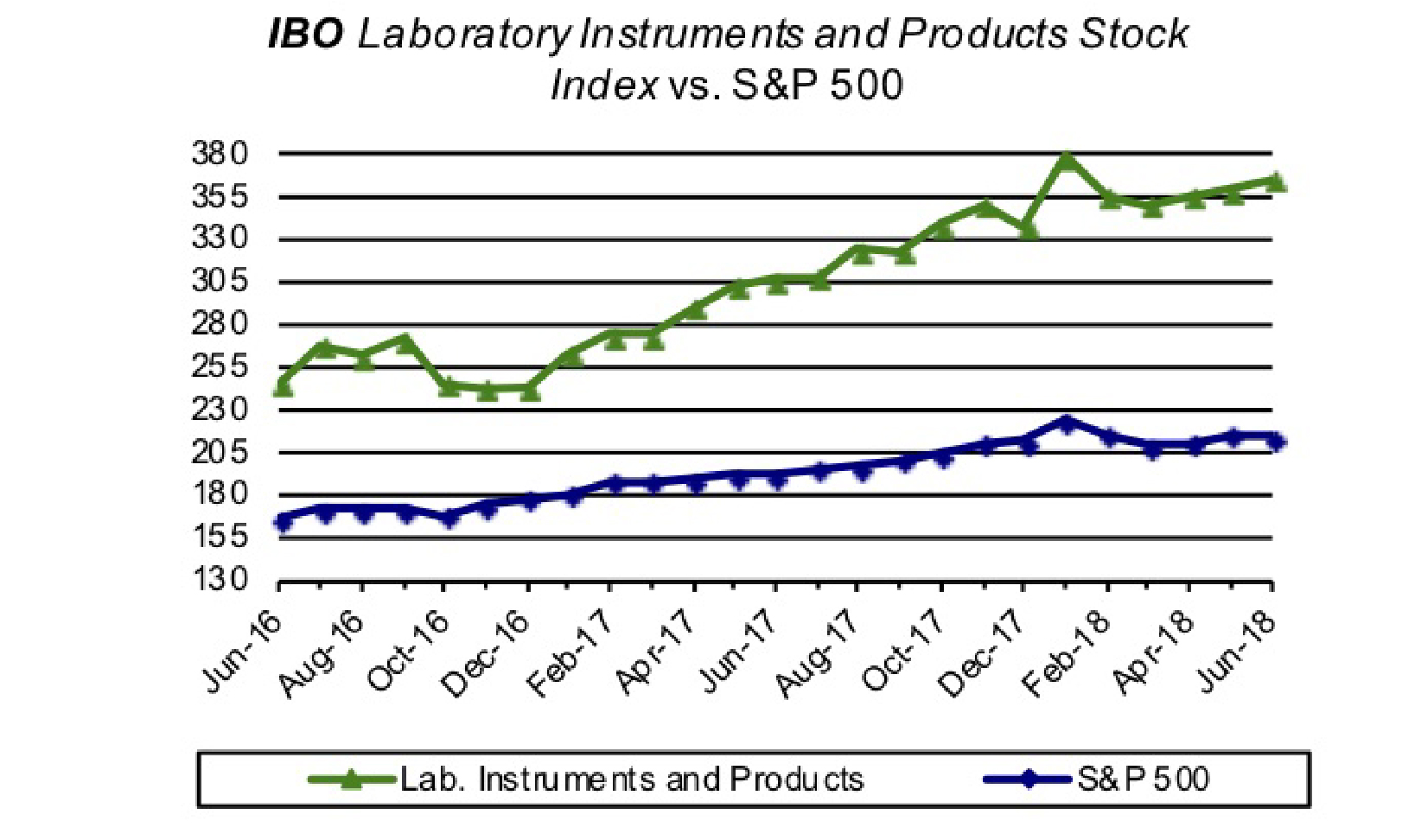 Click to enlarge[/caption]
Laboratory Instruments and Products Stock Index
The
Index
advanced 1.9% in June to 365.35, but is up 8.3% year to date. Twelve of the 20 companies in the
Index
finished in positive territory, led by
Pacific Biosciences
, which was up over 40%. The only other company to gain double digits was
Kewaunee Scientific
, up 11.3%. The
Index
's fastest decliner was
Quanterix
, which fell 22.0%. For the year,
NanoString Technologies
and
Harvard Bioscience
continue to lead, up 62.1% and 83.1% respectively. [caption id="attachment_226864" align="aligncenter" width="613"]
Click to enlarge[/caption]
Kewaunee Scientific
shares gained this month on strong fourth quarter fiscal year results. On June 26, Kewaunee Scientific reported an over 12% increase in EPS to $1.87, including the unfavorable impact of US tax reform, as sales rose nearly 15% (see
Bottom Line
), led by international growth. Quarterly EPS also benefited from strong sales, rising 2.0%. Also reporting financial results this month was the second biggest decliner among
Index
companies.
Enzo Biochem
plunged 20.2% in June. The company missed analysts' estimates on June 11, as fiscal third quarter EPS loss declined to $0.02, and sales fell (see
Bottom Line
). For the month, shares were down over 20%. In ratings news, on June 17, Deutsche Bank downgraded
Bio-Techne
 from a "buy" rating to "hold," with a $165 target price.
Diversified Instrumentation Stock Index
The
Index
fell 5.8% in June. Only 2 of the
Index
's 8 companies did not decline. The first company to post a gain in share price was
Corning
, rising 1.3%.
Roper Technologies
was flat, and the fastest decliner was
Xylem
. For the year to date, two companies,
Corning
and
Illinois Tool Works
, have suffered double-digit declines.
International
In Asia Pacific, major indexes finished the month down, due to international trade concerns and the weak yuan. The Shanghai SE Composite Index fell 7.4%, Hong Kong's Hang Seng declined 5.0% and South Korea's KOSPI Index was down 4.6%. The Shanghai Composite has declined 13.9% year to date. Three Asian Pacific companies in the
IBO
 stock tables posted gains in June.
Shimadzu
recorded the largest jump, up 11.5%. In contrast,
Precision System Science
dropped 16.4% and is down 26.0% for the year. Most major European indexes were also down, but remained relatively stable. The UK's FTSE100 declined only 0.8%, while Germany's DAX Index dropped 3.3%. Sweden's OMX Stockholm 30 inched down 0.7%. The fastest risers among UK stocks in the
IBO
 stock table were
Abcam
and
Oxford Instruments
, both climbing more than 9% this month. Two companies,
Horizon Discovery
and
Spectris
, posted declines. On June 12, Oxford Instruments released its fiscal year results, reporting a profit before tax from continuing operations, compared to a loss a year ago. EPS rose 35.7% to £0.56 ($0.78). The company also announced a dividend increase of 2.3% to £0.13 ($0.18), payable on October 18. Also on June 12,
Halma
released its fiscal 2017 results. Adjusted EPS rose 12.6% to £0.45 ($0.63). The company raised its final dividend, payable on August 15, to £0.90 ($1.25) from £0.84 ($1.17). Among the 5 European stocks in the
IBO
Stock Table, 3 recorded gains.
Biotage
led all gainers, up 9.1%, while
Merck KGaA
and
Sartorius
declined. For the year, Sartorius is the fastest riser, having gained 50.5%. [caption id="attachment_226865" align="aligncenter" width="808"]
The IBO Stock Indexes are weighted by marked capitalization. The Indexes' averages for the financial ratios presented are also weighted statistically to reflect the relative sizes of the constituent companies. Laboratory Instruments and Products Index: 12/30/11 = 100. Diversified Laboratory Index: 12/30/11 = 100. Exchanges: n = NYSE; o = NASDAQ; t = Tokyo; hk = Hong Kong; l = London; g = Germany; s = Switzerland; st = Sweden; no = Nordic Market; os = Osaka Securities. N/A = not available; NM = not meaningful. 
Click to enlarge[/caption]