Despite currency concerns and the implementation of US and Chinese trade tariffs on July 7, the major US stock indexes showed strength in July, reflecting positive economic news and strong corporate earnings results. Good news came on July 27 when the US Commerce Department announced a preliminary estimated of 4.1% US GDP growth in the second quarter, versus 2.2% in the first quarter, making it the fastest quarterly growth since 2014. For the month, the Dow Jones Industrial Average, NASDAQ and S&P 500 finished the month with gains of 4.7%, 3.6% and 2.2%, respectively. For the the first half of 2018, the NASDAQ leads the three Indexes, having risen 11.1%. [caption id="attachment_228908" align="aligncenter" width="403"]
Click to enlarge[/caption]
Laboratory Instruments and Products Stock Index
The
Laboratory Instruments and Products Index
rose 8.9% for the month, as share prices for 16 of the 20 companies in the
Index
increased. The Index has increase 17.9% through the first half of the year, with only 5 companies showing declines year to date. All six companies in the
Index
that reported quarterly earnings this month beat analysts' adjusted EPS estimates, noting strong end-market demand. Two of the six companies raised their full-year adjusted EPS forecasts. [caption id="attachment_228909" align="aligncenter" width="424"]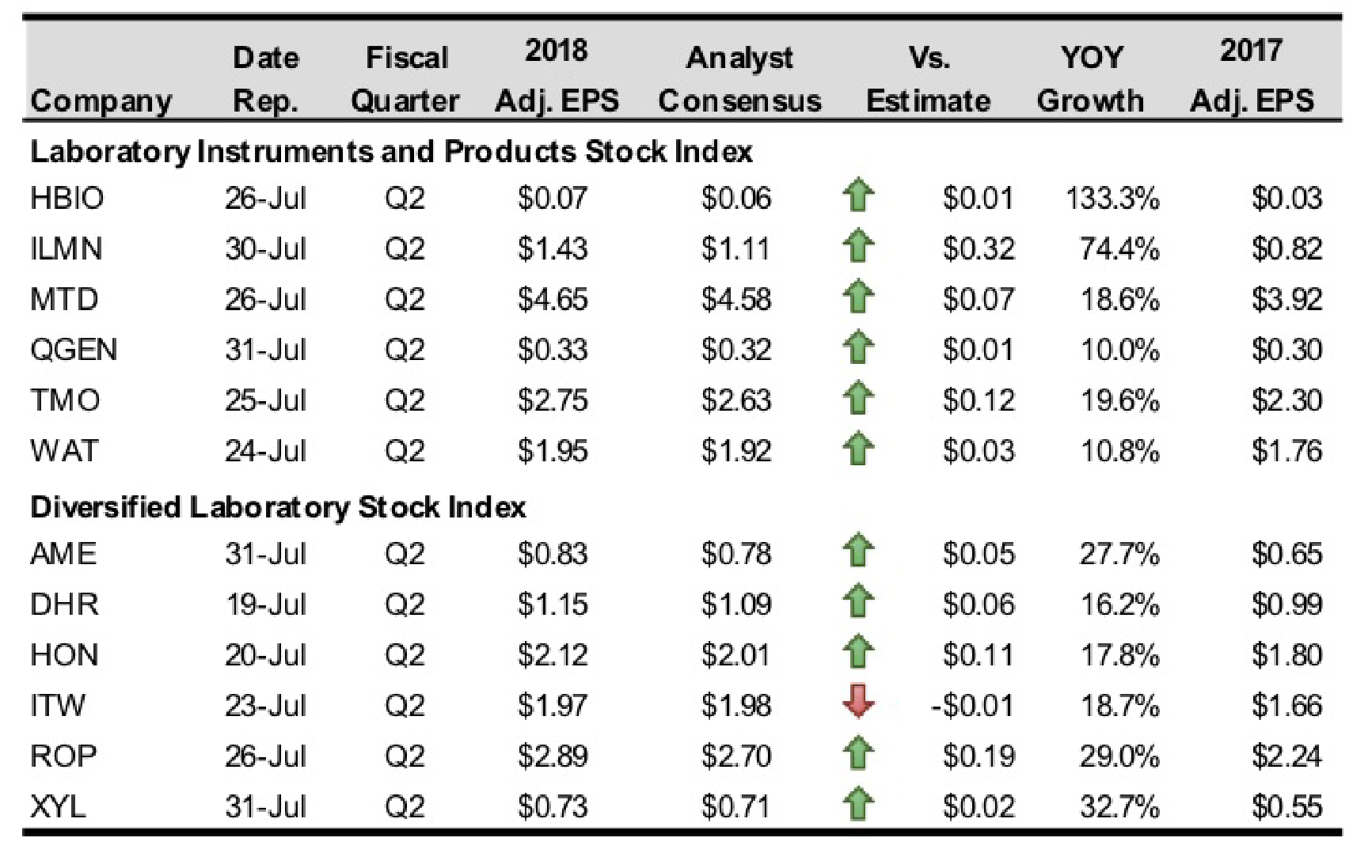 Click to enlarge[/caption] On July 30,
Illumina
reported strong earnings and revenue growth (see
Bottom Line
), beating analysts' estimates, and, for the second time this year, raising 2018 estimates for each. The company increased its 2018 adjusted EPS guidance approximately 12% to $5.35­­–$5.45 per share due to higher revenues, an upward revision of gross margin and a more favorable tax rate.
Thermo Fisher Scientific
also beat analysts' second quarter earnings and revenue forecasts, announcing its results on July 25. The company also raised its 2018 estimates for both. Full-year adjusted EPS was increased for the second time this year to $10.89–$11.01, from $10.80–$10.96. In doing so, the company cited operational strength, which is expected to offset the effect of tariffs in the second half and stronger currency headwinds. The revision marks 15%–16% growth in adjusted EPS year over year.
Also surpassing analysts' quarterly adjusted EPS and revenue guidance was
Mettler-Toledo
which announced its financial results on July 26. Despite an expectation of unfavorable tariff effects and currency headwinds in the second half, the company maintained its full-year adjusted EPS target of $20.10–$20.25. Third quarter EPS is estimated to increase 14%–15% to $4.97–$5.02.
Waters
reported second quarter results on July 24, beating analysts' adjusted EPS estimates but missing on revenues. As currency effects are now expected to be neutral, the firm revised downward its full-year guidance downward from $8.10–$8.30 to $8.05–$8.20. Third quarter adjusted EPS is estimated to be $1.85–$1.95, an increase from $1.76 in the third quarter 2017. Janney Montgomery Scott downgraded the stock on July 17 from a "buy" to a "neutral" rating.
QIAGEN
reported second quarter financials on July 31, maintaining its adjusted diluted EPS guidance for the year of adjusted diluted EPS of $1.31–$1.33. Third quarter adjusted diluted EPS are expected to be about $0.33–0.34, compared to $0.30 for the same period a year ago. Also announcing earnings this month was
Harvard Bioscience
. The company reported an increase in second quarter adjusted EPS on July 26, narrowly beating analysts' estimates. The company cut its net loss per share year over year. In other news,
NanoString Technologies
completed a public offering of four million shares of common stock on July 23 at $12.50 per share, resulting in net proceeds of $46.8 million. The news comes days after the company announced preliminary second quarter sales results above its forecast (see
Executive Briefing
).
Diversified Laboratory Stock Index 
The
Index
climbed 7.5% in July as 7 of the 8 companies reported earnings. All eight companies reported share gains, led by Corning, which was up 20.8%. Year to date, only one
Index
company,
Illinois Tool Works
(
ITW
), has declined.
Teledyne Technologies
leads all year-over-year gainers, having climbed 21.1%.
Danaher
kicked off the
IBO
Stock Indexes' earnings seasons on July 19 with a strong showing, beating analysts' estimates for both second quarter earnings and revenues. The company also raised its adjusted EPS forecast for the year from $4.38–$4.45 to $4.43–$4.50. Danaher forecasts third quarter EPS of $1.05–$1.08, compared to $0.99 in the same period a year ago. The three other Index companies reporting earnings results this month also announced stronger-than-expected results.
AMETEK
announced its second quarter results on July 31, which surpassed analysts' estimates for EPS and sales. The company raised its full-year diluted EPS forecast from $3.06–$3.12 to $3.16–$3.20, resulting in an anticipated 21%–23% increase year over year. The company's third quarter diluted EPS is set to rise 15%–18% to $0.76–$0.78. Also on July 31,
Xylem
beat analysts' estimates for adjusted EPS and revenues. The company narrowed its full-year adjusted EPS forecast to $2.85–$2.95, representing a 19%–23% increase year over year. On July 20,
Honeywell
reported quarterly adjusted EPS of $2.12 per share, handily beating analysts' estimates. The company raised both its 2018 revenue and EPS guidance. Full-year EPS is now forecast to be $8.05–$8.12, an increase from the previously raised guidance of $7.85–$8.05. Although missing analysts' estimates, on July 23,
ITW
reported double-digit adjusted EPS growth. The company also updated its 2017 adjusted EPS outlook to reflect adverse currency effects. ITW now expects full-year adjusted EPS of $7.50– $7.70 per share, compared to the previous estimate of $7.60– $7.80 per share, due to updates of the expected currency impact. Third quarter EPS is expected to be $1.80 –$1.90 per share, versus $1.86 a year ago.
International Stocks
Despite trade tensions, major Asia Pacific Indexes were up this month. Japan's Nikkei 225 rose 3.5%, while China's Shanghai Composite Index increased 3.2%. Less robust, South Korea's KOSPI index finished the month up 1%, while the Hong Kong Hang Seng was flat. Only one Japanese company in the
IBO
Stock Table reported earnings this month. On July 24,
Hitachi High-Technologies
reported fiscal 2019 first quarter adjusted EPS of ¥76.90 ($0.70) per share, down from ¥85.19 ($0.78) per share a year ago. Major European stock indexes also had positive results for the month. The UK's FTSE 100 Index rose 1.5%, Germany's DAX Index rose 4.1% and France's CAC 40 Index was up 3.5%. Of the 5 European stocks in the
IBO
Stock Table, 3 showed gains in July. For the year, 3 companies are up double digits. The largest monthly gain belonged to Sartorius, with a 9.7% increase in share price. On July 24,
Sartorius
reported adjusted EPS of €0.62 ($0.74) per share for the second quarter, up 19%, as half-year sales and net profit each rose double digits. The firm raised its 2017 revenue forecast due to an upward revision of sales in the Bioprocess Solutions Division.
Biotage
slid 3.7% for the month even though the company announced on July 16 second quarter EPS of SEK 0.79 ($0.09) per share, up 36% from a year ago. The EPS gain was helped by favorable currency effects. Two of the six UK stocks in the
IBO
Stock Table declined in July. The hardest hit was
Spectris
, falling 12.3%. Shares declined even though, on July 24,
Spectris
reported first-half results of £0.46 ($0.63) per share adjusted EPS, a 9% increase. The company also announced a 7% increase in dividend to £0.21 ($0.29) per share, payable in November. The fastest monthly gainer was
Abcam.
On July 12, Abcam released a trading update for its fiscal year ending June 30, detailing 10.7% constant currency revenue growth. The stock ended the month up 10.8%. On July 27,
Scientific Digital Imaging
reported adjusted EPS of £1.62 ($2.21) for the year ending April 30, a 95% increase. Revenue grew 35%. [caption id="attachment_229400" align="alignnone" width="2654"]
The IBO Stock Indexes are weighted by marked capitalization. The Indexes' averages for the financial ratios presented are also weighted statistically to reflect the relative sizes of the constituent companies. Laboratory Instruments and Products Index: 12/30/11 = 100. Diversified Laboratory Index: 12/30/11 = 100. Exchanges: n = NYSE; o = NASDAQ; t = Tokyo; hk = Hong Kong; l = London; g = Germany; s = Switzerland; st = Sweden; no = Nordic Market; os = Osaka Securities. N/A = not available; NM = not meaningful.[/caption]